With New York Fashion Week well underway, our attention is turned to fashion updates from the FW/13 collections, celebrities attending the shows, hot street styles spotted and of course the ever popular fashion bloggers on the scene and this is what February @FashionUnfoldis all about.
Fashion Bloggers have become real influencers and powerhouses in the once impenetrable fashion industry.
Top tier bloggers are now regular fixtures occupying front rows seats at the most coveted fashion shows. They score top collaborations with major brands, land reality TV gigs, get access to exclusive parties, receive lavish gifts and much, much more. Luckily for many, the bloggers-brands love fest doesn't stop at the top 1%, in fact more brands are now including fashion blogs in their marketing and outreach strategies, in hopes to capitalize on bloggers' influence.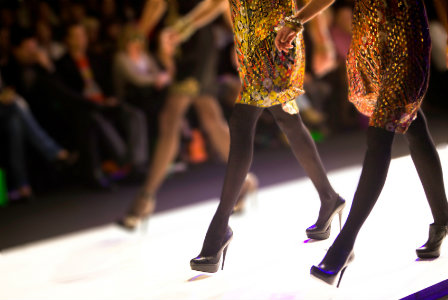 Hence the fast growing rate of companies offering bloggers outreach programs such as New York based Fohr Card - the first verified blogger directory that helps brands connect with the world's best fashion blogs.
Whether they are blogging as a hobby or professionally, bloggers are now seeking and scoring compensation for their time, talent and efforts, rightfully so. But could this new twist change the nature of your favorite fashion blog (or your very own), from editorial/personal entries to advertising/sponsored reviews? And if so, what impact could this have on blogging integrity and subsequently on readers?
We want to know where you stand on the question of bloggers working with brands: does it signal the end of their integrity? Have you stopped reading certain blogs for turning their once personal "diary" in a now famous billboard? What could this change mean for the fashion blogosphere? Could this give naissance to a whole new fashion blogging genre?
Read what our February Panelists have to say on the topic and join us on Twitter for a heated and uncensored LIVE discussion @FashionUnfold
Sarah Monaco – Creator of Fashion style blog I Bleed Fashion & 4th year McGill Student.
I'm very much opposed to the idea that publishing sponsored content means ruining your creative integrity as a fashion blogger.
Maintaining your blog's integrity is ultimately determined by being extremely selective about which offers you accept: sponsored content should flow and blend in nicely with the rest of the content on your blog and shouldn't come off to your readers as an attempt at making a quick dime.
In a society that is increasingly becoming more self-employed and project-based, accepting payment for blogging should no longer be frowned upon as something taboo, but as a sign of recognition of your talents in writing, marketing, and creating content that interests your readers.
This balancing act definitely becomes more difficult as bloggers transition from their blogs becoming a purely creative outlet into their main source of income, but I don't think it is an impossible feat.
"Blogs that seem to strike this healthy balance include Leandra Medine of "The Man Repeller" and Blair Eadie of "Atlantic-Pacific"."
I won't point fingers at bloggers who have essentially become walking billboards for brands, but it's safe to say that the stigma against sponsored content exists because of this small group of bloggers.
Sabrina May - A Canadian Fashion promoter and business coach. Owner of Sabrina May PR & Events
Brands who know how to position their company place their products in the hands of celebrities who have captured the world's attention.
Well, Bloggers have become the same, celebrities in their own rights because they have a following of fans in the thousands or more and companies recognize that opportunity to take control back to what products are getting talked about.
The difference between a blogger and a celebrity (supreme product endorser) is that bloggers have more freedom to get away with saying what ever they want. Celebrities have been flagged with having to watch what they say and do at times or it could cost them their career.
There will be bloggers who turn into product junkies I am sure. But the whole revolution of bloggers came about because they have the freedom to say what they want, it's not going to ruin their "movie career" for speaking out. They can continue to blog as they want, and market themselves freely.
"A blogger's integrity is what built their fan base, and a smart blogger knows this."
I say, take the free gifts but be selective with the brands they choose to build a relationship with, and stay true their own blogs brand. Their fans will begin to notice the difference if they don't.
Sarah Lorsch – Content Manager for Los Angeles based Fashion  company 365 Hangers
We look to fashion bloggers for the newest styles and sometimes we just gawk at the fabulous absurdity of their luxurious buys.
But now that bloggers are no longer the outsiders reporting on the inside, but rather the insiders reporting on the inside, does that hinder their ability to speak objectively about fashion?
I guess the bigger question is, does it matter?
Most bloggers have a strong sense of fashion and self. That's why we follow them to begin with. If a blogger hates the color pink and one day you see her flaunting the latest pink Rebecca Minkoff bag, the fashion is no longer authentic, and I would move on.
However, a lot of bloggers are taking advantage of collaborations or working with companies that they were already talking about before their fame. Marie Denee of the Curvy Fashionistais a prime example of a blogger flawlessly combining her blogger world with the corporate fashion world.
She works with Nordstrom to help create better looks for plus size girls and was blogging about it long before she hopped on board with them.
We're not looking to these bloggers for journalistic integrity, just their fashion. If you want fashion news on the latest company mergers with an objective style, look to WWD; if you want good, fun fashion with a personality, look to the bloggers.
Dee Thompson- A Canadian makeup junkie on the hunt to find the latest and greatest of the beauty world, www.linerglittergloss.com
With it being so much easier now for fashion bloggers to connect with brands, integrity is always a big issue.
I've come across blogs before with sponsored posts that seemed to take away from what the blogger was trying to say and it made me rethink whether I would go back again.
While I feel that having too many sponsored posts and editorials (especially when they don't necessarily match with the blogger's style) can sometimes take away from a blog, I also think that these partnerships can help – it can be a chance for bloggers to get new info and hints at future trends.
I think that what it really comes down to the integrity of the blogger. Working with these fashion brands can be a great way for them to expand, as long as they don't let them take over and change their vision.
"Bottom line is, if they don't share the same ideas or agree with what is being said, they shouldn't share the post with their readers."
These posts can change the mindset of readers and basically put confusion over the blogger's personal posts and style.
Yuka Murai – Tokyo and Portland, OR based Fashion & Lifestyle Writer/Columnist, http://yukamurai.tumblr.com 
The definition of Blog is definitely changing day by day. Blog used to be primarily textual, but now photographs and videos became main contents which are perfect place for brands to come in and capitalize from it.
I personally prefer a textual post with a few photos, but I see visual presentation is essential part of blog post, especially in fashion. And, it perfectly makes sense for bloggers to seek compensation in return of spreading words about the brand. It just needs a piece of clarification, I think.
Just like existence of free printing magazines that are depending on advertisers, Fashion blogs working with brands will be "new normal" but then it will be naissance of new blogging genre which should make it clear with readers/followers about associations with brands.   
Are there any good blogs that are closely working with brands out there? I don't know, because blogs that I am following don't seem to be clear about their relationships with brands that are featured in their blogs.
As I am also publishing my own blog, the idea of this bloggers-brands relationship is something I have been thinking about for my blog, and hopefully we all will find perfect equilibrium to keep bloggers' integrity high and generate their compensation that they deserve.
Emily – Girl obsessed with fashion, I run a blog and a fashion monthly magazine
To me the point of a fashion blog is to inspire others, to share your style to a whole range of diverse people who can interpret your style into their own unique look.
So when it comes to reading and following blogs I always fall for the blogs which portray a real sense of self style, blogs that don't simply follow trends but twist them to make them unique to fit the bloggers style.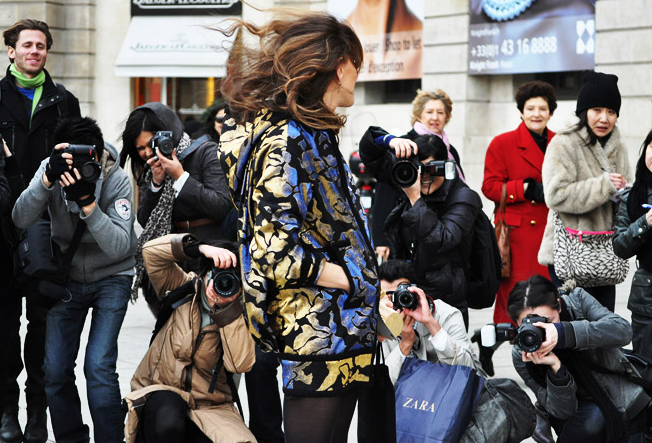 So this is when I feel I should write an article about how I feel bloggers should stay true to "their style" or "their morals". Un yet I've come to the conclusion that under the right circumstances collaborations are a fantastic opportunity.
However I make a firm point of only accepting collaborations if I genuinely LOVE the clothes.
I remember the first collaboration request I received was for some hideous wellington boots; in all my excitement I said yes. I remember them arriving and me feeling totally compromised about having to post about these hideous boots I knew I would never wear.
But then year or two later a different brand contacted me offering that I could choose my own items, this felt right to me. I chose a dress that I still own today. The dress is MY STYLE and I would have bought it anyway had I known this brand had existed previously.
So I believe collaborations are a positive thing amongst bloggers as long as the blogger at hand stays true to their own personal style. It offers a reward for your hard work and introduces you and your readers to new and innovative brands.
Share and Enjoy