Fashion[Unfold] March edition is finally here and you are invited to join the always heated  fashion live chat on Twitter via @FashionUnfold at 1PM ET.
Unlike previous editions, today's debate is taking place in Toronto, as I am here to cover the World MasterCard Fashion week, a perfect environment for this month's hot topic.
Fashion Shows & Star Power: The Front Row.
Katy Perry, Emma Stone, Rooney Mara, Alexa Chung, Rihanna, Mila Kunis, Beyonce just to name a few, count among celebrities we now expect on the front rows of major fashion shows.
Whether it is a publicity stunt, business arrangement or genuine friendships between A-listers and designers, the goal is the same: generate more buzz and press for the designers and some fashion houses are willing to pay exorbitant amounts for an appearance.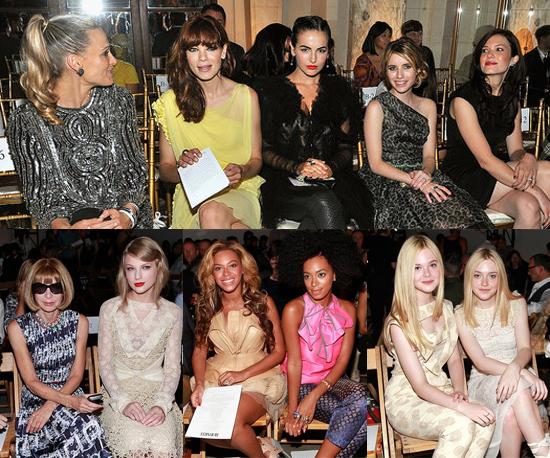 The practice may have been going on for years, but no one has truly addressed it publicly, Emma Whitehair, a fashion PR (White Smoke Communications) said: 'Absolutely it happens, but it would be professional suicide to mention brands and celebrities involved (source).
But not everyone in the industry approves of the practice. In fact French-born London-based couturier Nicole Farhi recently spoke up, "It is so unprofessional. I have never paid a celebrity and I will never do it. It's stupid." She told The Sunday Telegraph's Stella magazine.
"What do they show you in the papers after a fashion show? Not the clothes, but the celebrities who are being paid to sit at the show."
Using celebrities or talents – Top tiers bloggers could certainly apply now, for advertising purpose is nothing new; it is another PR/Marketing strategy big labels/brands deem worth the investment, especially as the fashion industry grows more competitive than ever.
So what do you think? Should Fashion labels pay celebrities to attend their shows? Is the practice misleading to consumers? Does it matter at all? And as a Designer, would you invest in talents/bloggers for more exposure or not?
Check out what our panelists have to say and sound off on Twitter @FashionUnfold 
With time comes change, it's inevitable. The methods that once worked to help promote brands have fallen to the waist side for a new era of marketing. Designers paying celebrities to attend shows do not bother me. It's no different from trying to have a celebrity walk the red carpet in their designs.
At the end of the day I understand that the designers are running a business and the bottom line is to gain visibility and revenue.  Society has proven its obsession with the glamorous lives of today's celebrities. We want to know their every move; what they're eating, who they're dating and what they're wearing. Emerging designers have taken advantage of what the CONSUMERS have deemed important and have capitalized from it.
With this opportunity they get a chance to try and compete with some of the more established fashion houses. Compensating a celebrity to attend a fashion show is not the ultimate fix it tool, they merely help rally an audience. The DESIGNS have to speak for themselves. I would encourage designers to do what works for their overall goal and if compensating a celebrity to attend their show works, go for it! Designers aren't misleading anyone; they are simply adjusting to the changes of our time. Fashion has been here before the hype and shall remain after.
I once worked with a middle-eastern designer who's really eager to get to the top, and to reach that goal, the fashion house often reaches out to celebrities. And since they have the means to afford it, they once paid this certain celebrity to attend the show and wear some of the label's creations.
Both designers and celebrities can benefit from these arrangements. As a designer, I would love to get a high profile celebrities to my show and wear my clothes as a representation of my label. Having a someone famous at a show gives an added layer, a different attitude to the label.
On the other end, if you're famous or have famous friends why not invite them to your show, it will be great media and marketing wise, in addition to their personal support.
Celebrities gain from it too, remember Nicki Minaj seating beside Anna Wintour? This, I believe was the work of her agents who definitely got her some major exposure. There is also Katy Perry, who after being tagged as one of the best dressed celebrities, was seen at the recent Chanel fashion show, she could have well been paid to attend. Either way, both Chanel and Perry benefit from this.
Bottom line, in order for a fashion label to survive, it needs a lot of hype in any circumstances and celebrities help in that department.
Michelle Bilodeau, Editor and Writer in Fashion, Beauty and Lifestyle. http://frontrowmag.com/
Mutually beneficial relationships in fashion are so prevalent these days, especially in terms of putting famous faces on designer's front row.
For a spokeswoman to be present at the show, like Mila Kunis' turn at the Dior Fall 2012 show, it reflects the brand and is an obvious marketing ploy.
But paying other "friends" to sit front row can be misleading to fans of the brand. If, as in most big houses, the work is spectacular, it really should speak for itself.
Marketing and public relations teams see the value in name recognition, so it doesn't seem like the trend will be dying down anytime soon.
If a celebrity happens to be the brands spokesperson, than it only makes sense. Paying celebrities to attend your show just to get name recognition is a poor choice. Your work should stand out on its own.
We live in a society that has a very limited memory and is beyond fast-paced. Maybe it's the times, or a marketing tool, but hype might be the way to maximum exposure for some people.
Dominique Lawrence, Founder of Montreal Fashion and Opinion Website www.dconstructfashion.com
Designers who pay celebrities and socialites are simply cheating the system in terms of establishing brand loyalty. While some spend years to build a faithful following, celebrities that are bribed to sit in front row positions bring a fakeness to the company they "supposedly" follow.
The process of strategically placing media icons within a presentation is all a matter of portraying where a designer's value is. Celebrities are humans too, but there should be an appropriate balance between brand and media equity.
I personally am not for the usage of "A-listers" at fashion shows because it takes the focus off the designer's talent and skill. However, this is a business that a celebrity can do wonders for sales growth for a debuting company. My opinions on the overall work of a fashion label will not change just because a certain mogul supports it.
Hype destroys fashion's true DNA. Fashion commercializes itself to a degree when media is too present. In a world where everyone seeks to become famous, people will purchase just to have the right to say that they own something seen on their idols. It's unfortunate, yet we all saw it coming.
Jennifer Lui, full-time PR professional and part time blogger for www.luckypennydaily.com
With the emerging trend of designers previewing their upcoming collections on the red carpet, it's difficult to get excited, it creates fashion fatigue. Too much PR causes over exposure.
Paying celebrities to attend your show is fine to help generate attention and frenzy for your upcoming collection, but I think it's wrong to place celebrities up on a fashion pedestal if they haven't gotten there themselves. (Sidenote: it's a little insane how much some celebrities get paid just to show up at shows. I think if more people knew of this practice, there might be a few more sour faces out there).
There's no doubt that the more stars are exposed to fashion, that the more their own personal styles will be influenced as well. Blake Lively has often cited that her character on Gossip Girl, Serena van der Woodsen, has now affected the way she sees and wears fashion. She's even started relationships with some influential brands like Louboutin and Chanel.
If the friendships become/are genuine, then there's no reason not to leverage all the star power a fashion brand can get, but it's dangerous to rely so much on the stars and the celebrity industry and to hype up a collection even before it's debuted.
I'm of the school of thought where the goods should speak for themselves – good quality, intense creativity and detailed craftsmanship win out every time. If a star can find a brand that aligns with their own personality and they happen to become a brand ambassador through that avenue, then all the more power to them. But dressing a star in every designer for the sake of it seems counter-productive.
Share and Enjoy